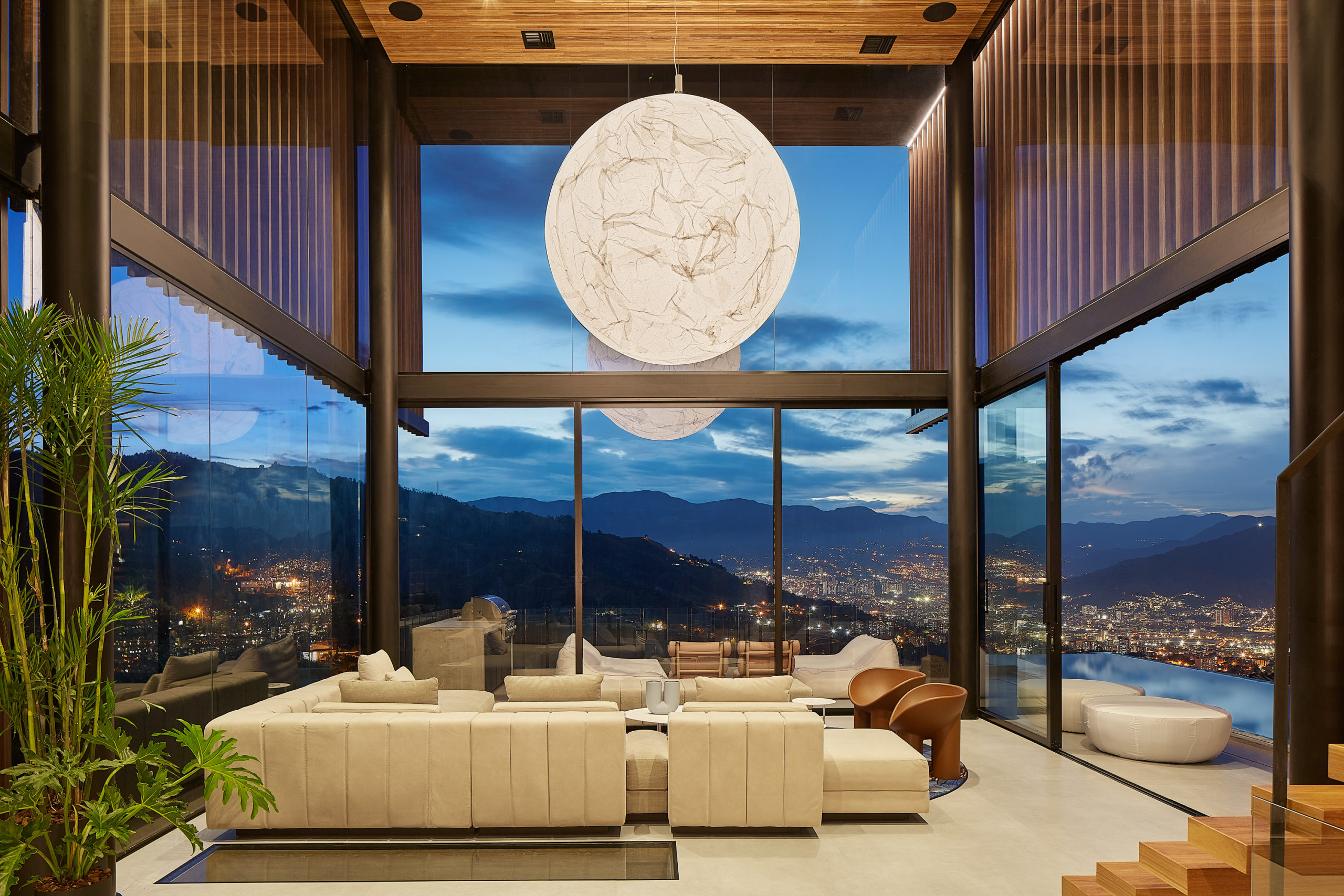 Thursday, November 25th, 2021
Let there be light
Cecilia Ramos understands that designers aim to "create spaces that facilitate life – spaces that can adapt and transform depending on a client's needs". It's why the Senior Director, Architectural Market, at Lutron Electronics (pictured below) is so passionate about the company's Home Control (Automation) Technology to curate the perfect light environment in a built space.
"It's a synergistic relationship," she says. "We aim to always innovate so that we can in turn facilitate a designer's vision."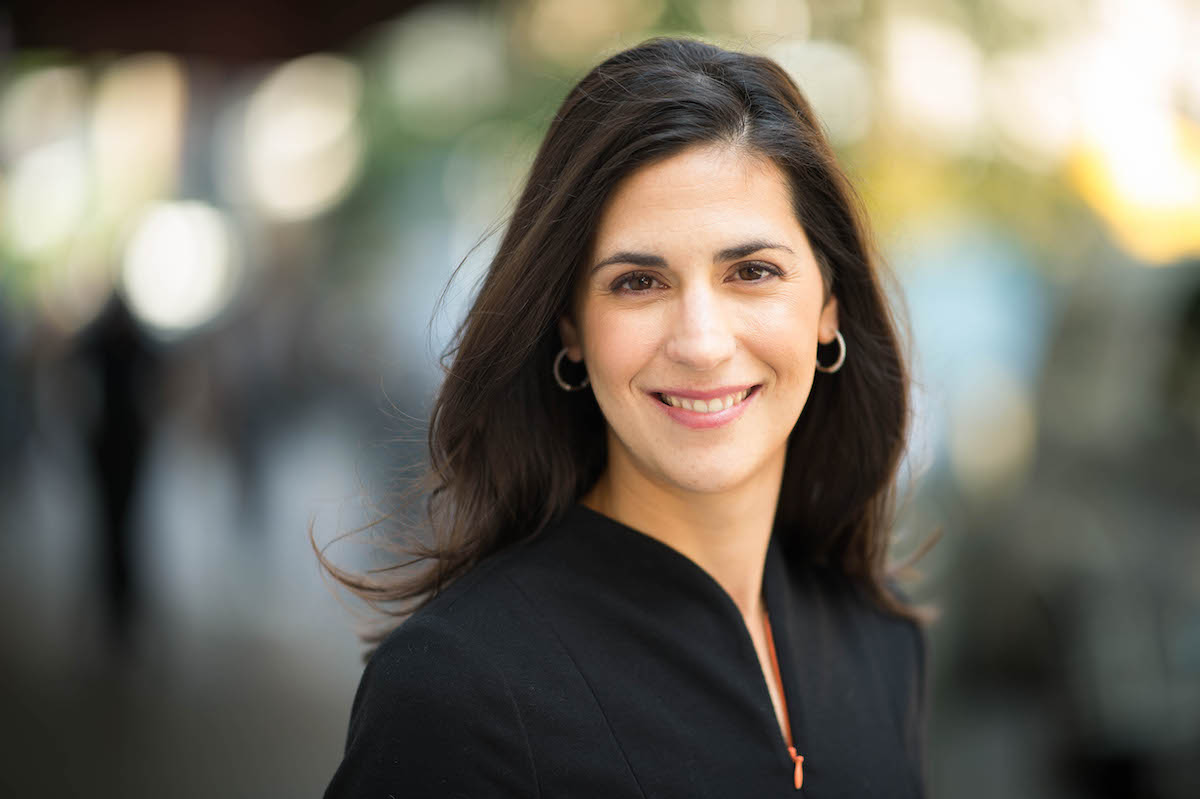 From its very first product, a simple rotary dimmer which helped transform an environment to reflect the user's mood, to the latest creations Alisse smart keypads and Palladiom automated shades with exposed designer's brackets, which Cecilia describes as "jewellery for the walls and the home", Lutron goes beyond functional to add high-tech luxury, elevating architectural sophistication.
Alisse, featuring artisanal hand-finished metal plates, casts spell-binding soft halos of light on walls like sparkling gems, seamlessly blend into walls for extra elegance and a status statement. While motorised Palladiom shades with exposed metal finish brackets, the shade no longer needs to be recessed in a pocket and in turn, an architect and designer can maximize ceiling height should they wish. The Palladiom shade brackets can be coordinated with wall keypads such that together portraying sophisticated aesthetics and luxury.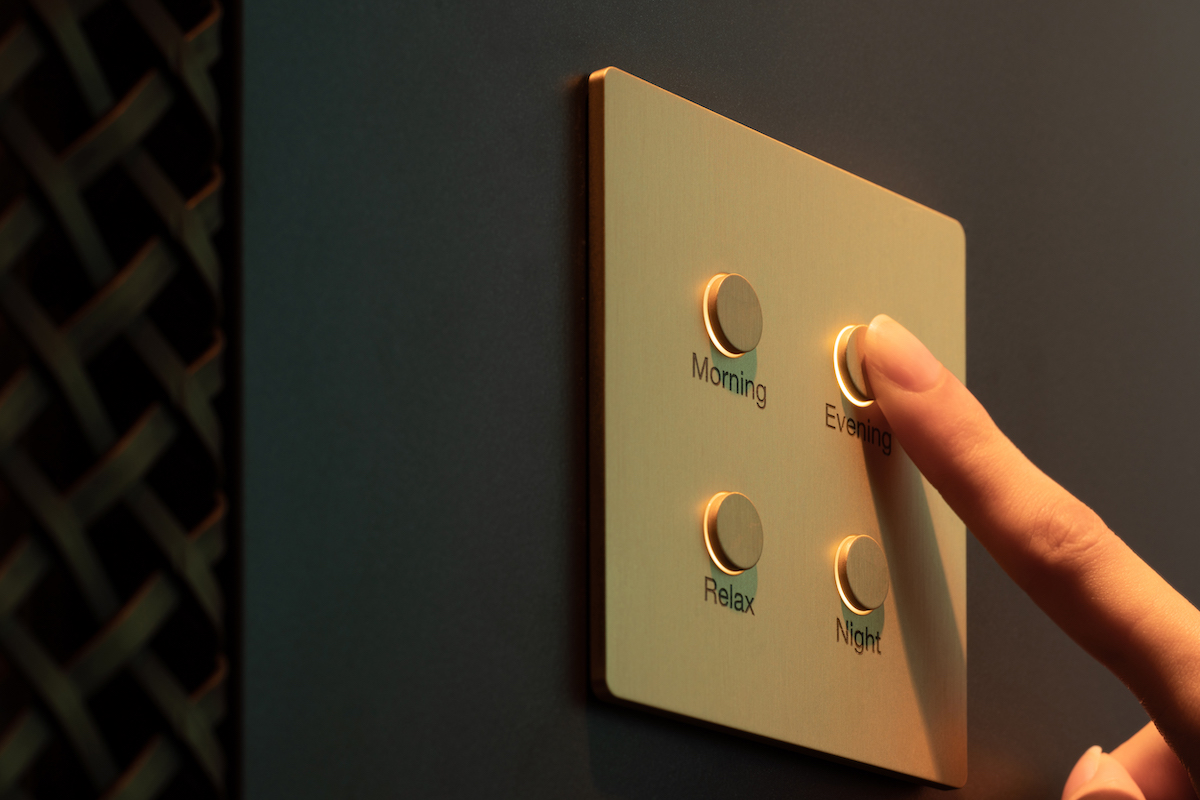 Backed by 60 years of leadership in the industry, Lutron is delivering an integrated technology solution powered by breakthrough engineering that creates an immersive and personalised experience, with light, sound, and temperature control all working in tandem via smart devices within easy reach. The end goal is to create the "home as sanctuary" that everybody desires, as living and working from home is often a necessity rather than a choice under the new normal triggered by the global pandemic.
Such home automation technology helps architects and designers create magical experiences – through a smart phone or voice command, the smart shades and lighting systems can be tuned instantaneously to set the mood, without having to get off a comfy sofa to press a button.
Lutron enables a space to look and feel the best. It gives home owners personalised control to bring out the beauty of a space, maximise daylight, recreate warm light like the sun, connect with the outdoors while preserving views, reduce glare and, ultimately, promote comfort, Cecilia promises. "We care deeply about design and the human experience."
"Luxurious Cruise on Land" fully automated
The magic of home automation technology is on full display in an elaborate 3,419-square-foot home on the Whitehead Peninsula. Designed as a "Luxurious Cruise on Land" by Robert Shum of the Cypress Group and offering famed views of "Hong Kong's Best Beach for Romantic Sunsets" at scenic Tolo Harbour, the house has opulent materials such as walnut wood, high-gloss ebony, Brazil-imported marble stone and brass ladder railings liberally and cohesively applied throughout to evoke a superyacht ambiance.
To set the "cruise" on sail, HKT Smart Living team recommends and deploys Lutron HomeWorks system to enable reliable central control of all the electrical features, from lights to shades, entertainment systems and air conditioning. Despite the challenge of home size and weather concern in outdoor areas, HKT Smart Living team successfully installed HomeWorks smart devices and keypads at every corner – in the two living areas, four suites, the outdoor garden, swimming pool and the rooftop and ensure seamless connection.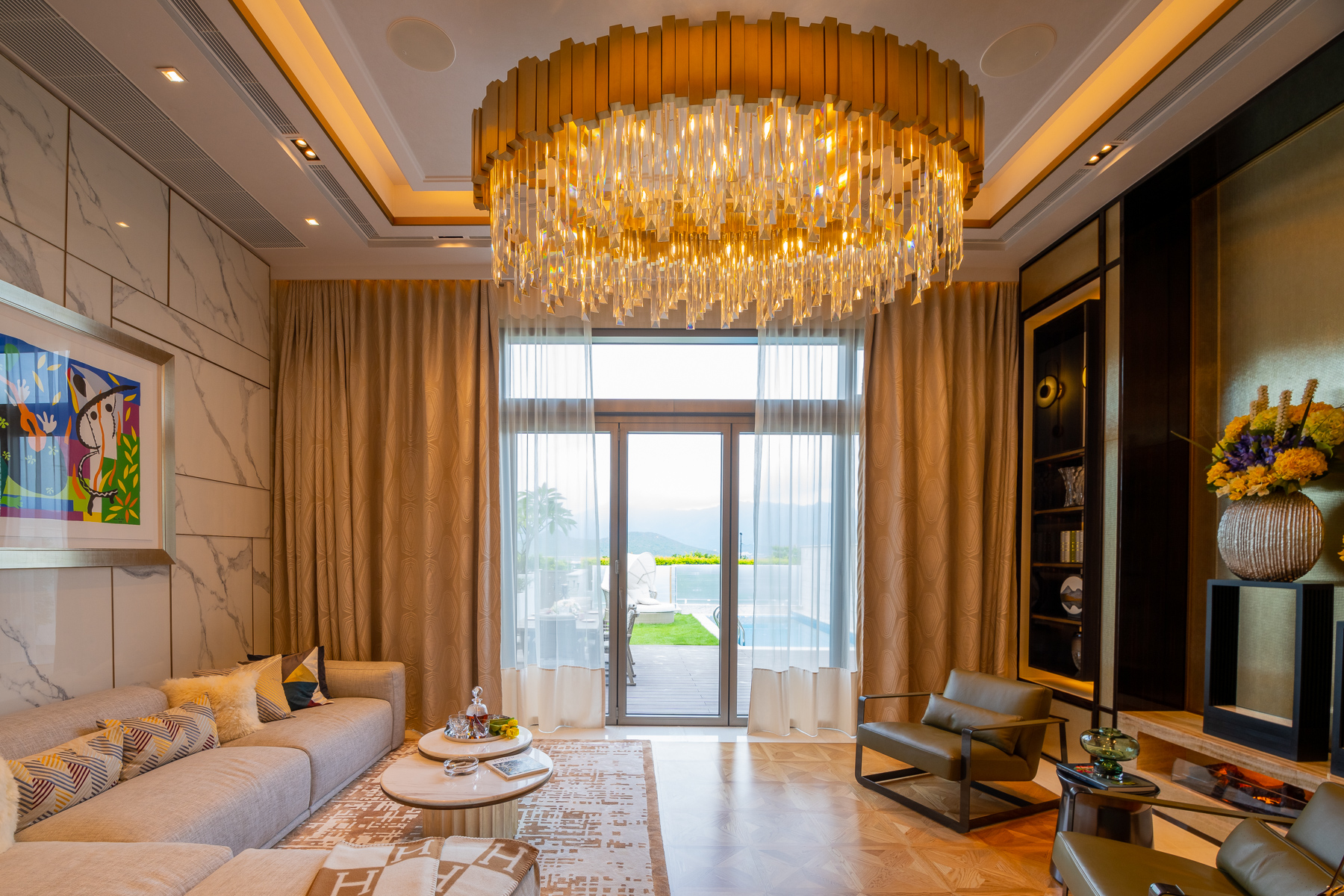 The designer's attention to detail is apparent, not only through the choices of decorations, art pieces and furnishing, but also in the deft use of lighting to glorify unique features and focus attention. The grand chandelier in the living room is a case in point – Robert used multiple layers of lights controlled by the HomeWorks system to create the perfect ambience for grand events of different themes, and the lighting is designed to direct guests' eyes to the artwork on the wall or the wine cabinet in the bar area. Lutron Palladiom keypads are thoughtfully placed on the upper and lower area for controlling the lighting even after users leave the area.
In the 1,400-square-foot garden and swimming pool, HKT Smart Living team connects and integrates Lutron HomeWorks system with all the built-in and outdoor KEF speakers, with pre-sets for "daytime", "gathering", "cocktail" and "poolside party", ready for any occasion. This clever application of technology is the perfect illustration of what Cecilia describes as "smart but simple, powerful but easy to use."
In the bedroom, lighting is programmed for four customised scenes – "morning", "prepping", "reading" and "resting". Coordinated with the Lutron HomeWorks system's scheduling function, the owner of house can enjoy sunlight shining through the room automatically in the morning and appreciate a good book with a soft bedside light when night falls.
The bathroom is fitted with a HKT Smart Living smart mirror solution, also connected to the HomeWorks system, allowing the user to control the lights and shades in every corner in the house, or play a movie on the mirror while luxuriating in the bathtub. The entertainment room is powered by an audio-visual system controlling the TV, speakers, amplifiers, screen and projector in one-click through the Lutron HomeWorks system.
Redefine lifestyle with HKT Smart Living
The "Luxurious Cruise on Land house" is a showcase of HKT Smart Living's strengths in designing smart living solutions making the most of cutting-edge technology, such as Lutron's luxury residential portfolio encompassing lighting control platforms, luxury wall controls, finished shades and control from the Lutron app or integrated voice control that engender a complete Lutron whole home control experience.
HKT Smart Living is one of only 11 Lutron Luxury Ambassadors in Greater China, an honour exclusively accorded to important partners with demonstrated capabilities in elevating exceptional homes and developments aesthetically and intelligently, with Lutron's Home Automation Technology. According to Roger Stamm, Lutron Director, Residential Systems, HKT Smart Living was one of the founding Ambassadors in Hong Kong and continues to be one of the groups' most valued and top performers.
Smart home made easy for architects and designers
Make HKT Smart Living your innovation partner in your home design projects. Discuss your creative ideas with the HKT Smart Living consultants and get practical advice that take into account budget considerations, design specs and timelines. The HKT team will take care of the smart living areas of the design brief, from start to finish, so that you can focus on the other design considerations and finessing the aesthetics.
Enjoy a Special HKT Smart Living Offer of a FREE one-time onsite inspection (worth $1,000), exclusively for the A&D Awards community. Contact us on +852 2888 1618 to arrange for the inspection, and learn more about the HKT Smart Living Solution here: https://smartliving.hkt.com/eng/interior-designer-enquiry
photo credit: Carlos Velez