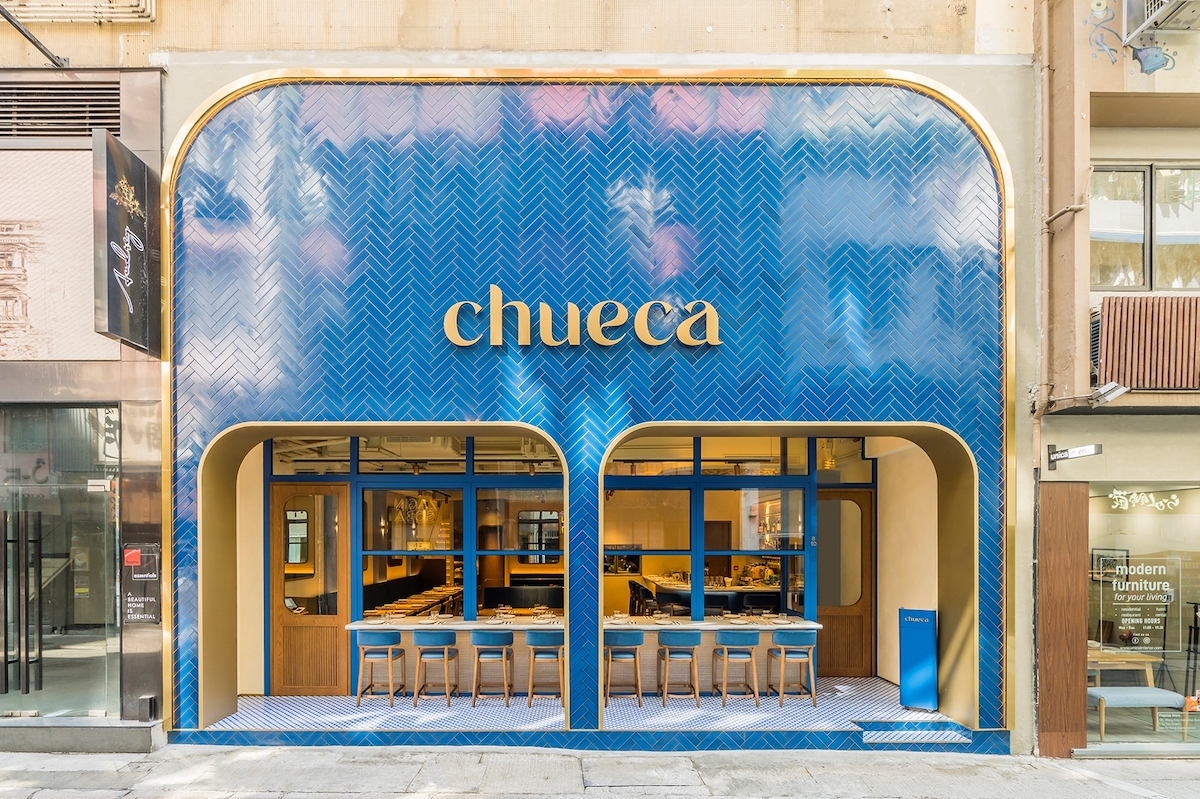 Wednesday, May 11th, 2022
A vibrant splash of Spanish culture comes to the heart of Hong Kong
Lonely Planet describes Chueca, the funky neighbourhood of central Madrid, as "extravagantly gay, lively, young and always inclusive". The same could be said about one of Hong Kong's hippest new eateries named after the Spanish precinct and designed by the equally cool studio Design East.
Located in the Hong Kong's Soho district, Chueca is an Iberian tapas bar fashioned by Design East's Yuki Yasukagawa, who is rapidly building a reputation in the city for creating unique restaurant settings, including The Araki, a stunning omakase counter for sushi master Mitsuhiro Araki.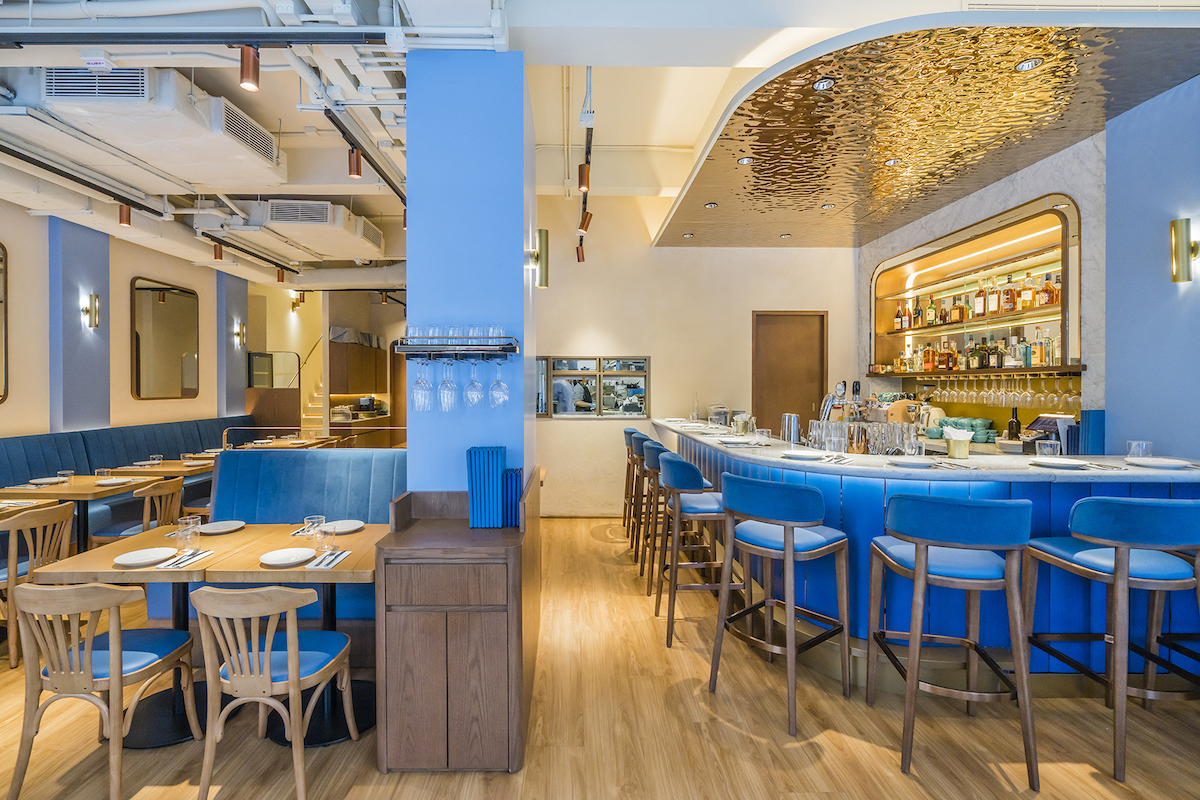 This time the vibe is far more laid-back, with the emphasis on vibrancy and fun. Cladded in navy tiles with brass archways, Chueca's striking façade is hard to miss. Various shades of blue, reflecting the changing moods of the Mediterranean Sea, extend into the interior space on structural columns, upholstery and the bar area. Blue is also a colour close to the heart of founder Horacio Moreu.
Together with the natural oak flooring and walnut joinery, the relaxed space offers a comfortable environment for long weekend brunches and casual dining. The bar design, featuring a reflective rippled ceiling, white marble countertop and walls cladded with brass elements, creates a special atmosphere for bustling evening drinks, spilling through postcard windows, out into the Soho streetscape.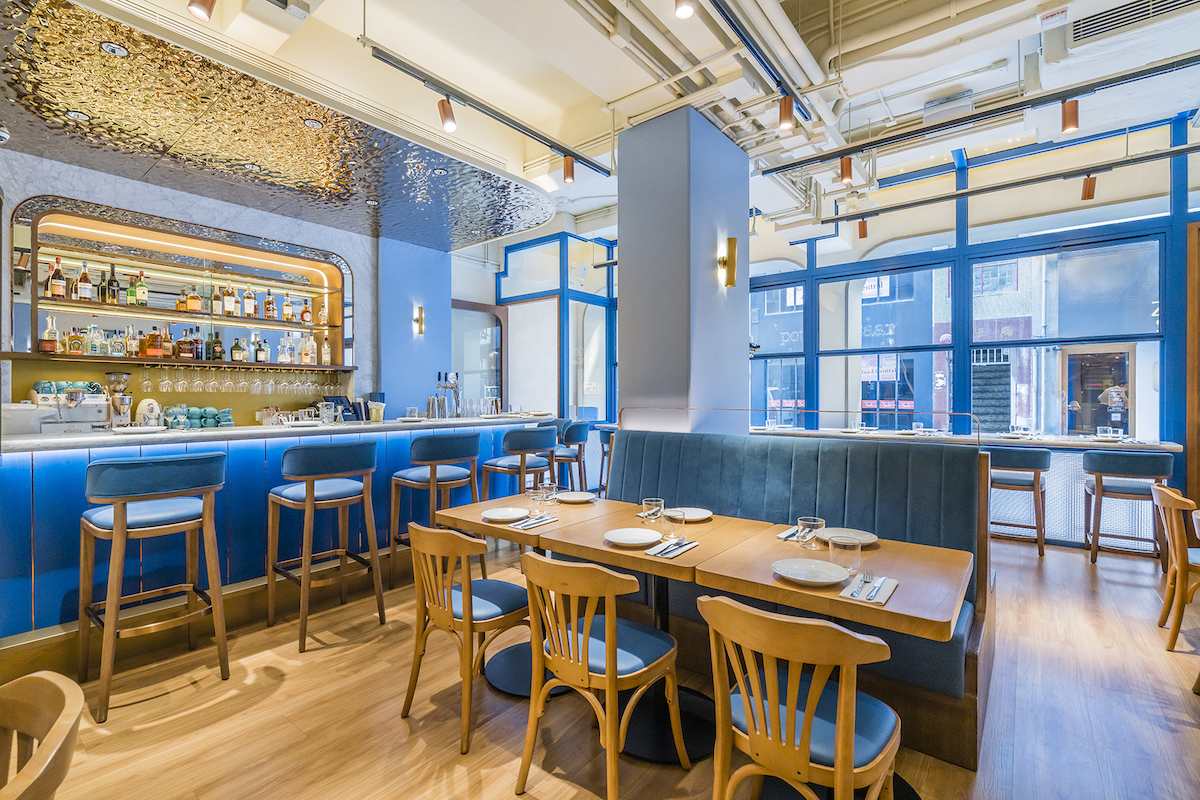 Yasukagawa says a key to successful restaurant design is to ensure that it brings the original restaurant concept to life in an exciting way. "For example, at Chueca's outdoor counter area we used an infinity mirror ceiling with lots of pendant lights to imitate the night sky and create a memorable experience for clients."
After months of bars and restaurants closing due to the pandemic, it's uplifting to see such a welcome new addition to Soho's colourful collection of eateries. Yasukagawa's ambition was to create a venue that would become iconic in the Gough Street area. Mission accomplished!